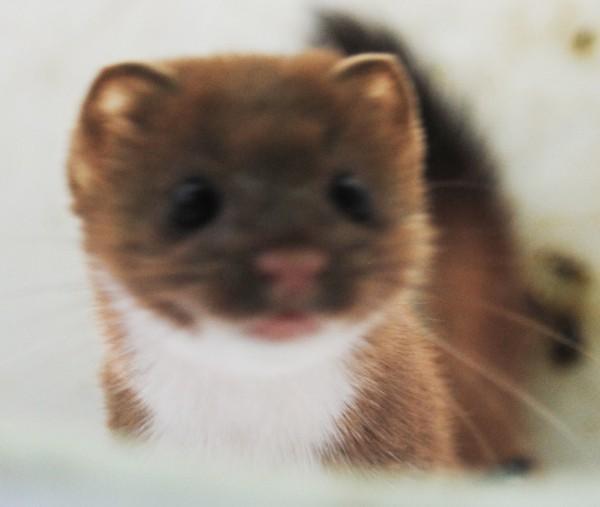 You never know what you will find when living on a farm. I started my day early this morning with the hopes of getting the flue cleaned for the wood stove. I figured that since the fire went out during the night (which rarely happens), I would take the opportunity to get it cleaned so that the house would be warm again by noon. It didn't happen!
I was taking the dogs out for the morning ritual, and on the way back inside to feed them I decided to check on some vegetable seedlings that are growing in my basement. It will be planting time soon enough and I have been trying to get a head start. I keep them in a closet, and upon opening the door, a baby mink jumped out at me. The neighbor did warn us that mink were around here because of the water on our property, but we didn't see any until today.
The baby looked like a ferret, and I was able to trap him in a bucket after about 30 minutes of wrangling him. Unfortunately, I will need to set traps to keep them from infesting my property, otherwise they will kill my cats, and my chickens. I don't believe in killing something that hasn't even had a chance to live yet so I brought him out into the woods and let him go. He ran off, and hopefully I won't ever see him again.
I can't imagine how he got into the basement, let alone into the closet. I can only assume that one of the cats took him in through the cat-door we have down there and he was able to escape. Hopefully the mother won't be looking for him, otherwise the cats may be in trouble. I try to take great photos, but due to the fact the baby was trying to jump at me from the bucket, the photo is fuzzy but I still hope you enjoy!