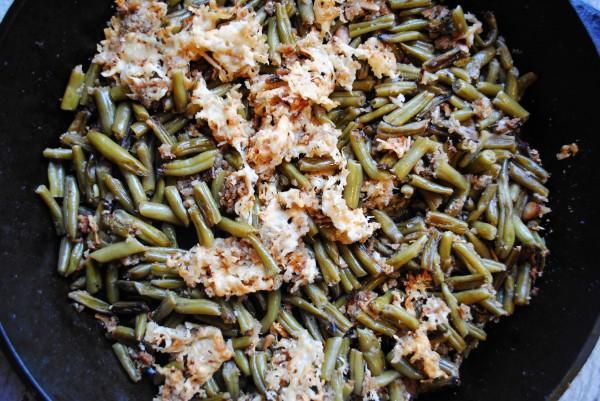 Jon and I were fortunate enough to share 2 wonderful Thanksgiving celebrations with our families this past weekend. I never thought I would say this but it feels nice to get a break from the stove after cooking up a storm for 4 days!
The turkeys were amazing, and once we run out of leftovers I plan to cook our third one and post the recipe here just for my readers. I wanted to do something a little different with this string bean recipe. I wanted to keep the ingredients and flavors simple yet distinct. The result was better than I could have hoped, as the culmination of so many amazing flavors turned this dish into a huge hit for the holiday.
As usual, I cooked this in my very large cast iron skillet. I then broiled the string beans with some shredded Parmesan cheese to give them an extra bit of flavor. The sharp cheese was the perfect addition to this dish. One of the key ingredients was our homemade Chicken Stock.
The first batch of string beans we prepared we made using stock that we had in the refrigerator already. When we prepared the second meal, we used the remains of the leftover turkey to make a delicious stock (using the same stock recipe used for the chicken stock, but with turkey instead).
Turkey has such a great, distinctive flavor, and it really came through, adding even more depth to this meal. In the end, both will give you an absolutely delicious result. One of the best things about this recipe is that it's simple, and only takes about 20 minutes to prepare.
You can use any saucepan to sauté the string beans in, so long as it's large enough to fit a 2 pound bag of frozen beans. Feel free to cut the recipe in half if this is too much, and you can give or take on any of the ingredient quantities to suit your taste. I hope you enjoy this as much as I do!