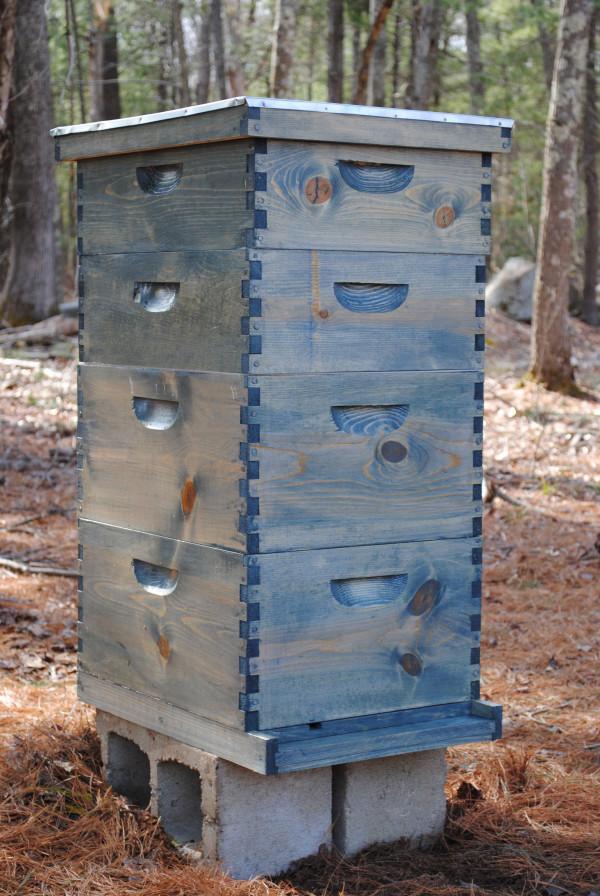 I have struggled with a lifelong fear of bees since I was a kid. It was passed down to me by my mother who is even more afraid that I am. I remember when I was young she would run inside screaming every time a bee flew by, and I guess it rubbed off on me.
Most everyone who knows me thinks I am nuts for letting Jon talk me into starting this colony of bees, but I truly think it will help me get over my fear. We have talked about starting a hive since we met, and we happened to find the perfect spot for it right out in part of our woods.
We were lucky enough to score an amazing deal on eBay. The downside was that I had to assemble the hive myself, but 4 hours on a rainy day was perfect for the project. Do not buy used hives. It can spread diseases from prior colonies to your new one and wipe them out quickly. We are picking up our bees this weekend or next.
Jon is going to do most of the work until I am comfortable enough knowing that I will get stung and not being afraid of it. The only time these bees will sting people is when the hive is being opened, when you step on them, or when you are aggressive towards them. They are very passive, and we are so excited.
As an aside, the garden is coming along! We are doing raised beds this year to try and cut down on the weeds. We also planted 15 fruit trees on the perimeter of the garden, and hopefully in a few years we will be overloaded with our own organic fruit.
What better than a beehive to pollinate fruit and vegetable plants? As you can see from the photo, we chose to do a stain on our hive instead of painting it. We thought it looked a lot nicer than the traditional painted hives, and a few coats of polyurethane will protect it the same as an exterior paint. I hope the queen and her colony enjoy their new home as much as we do!